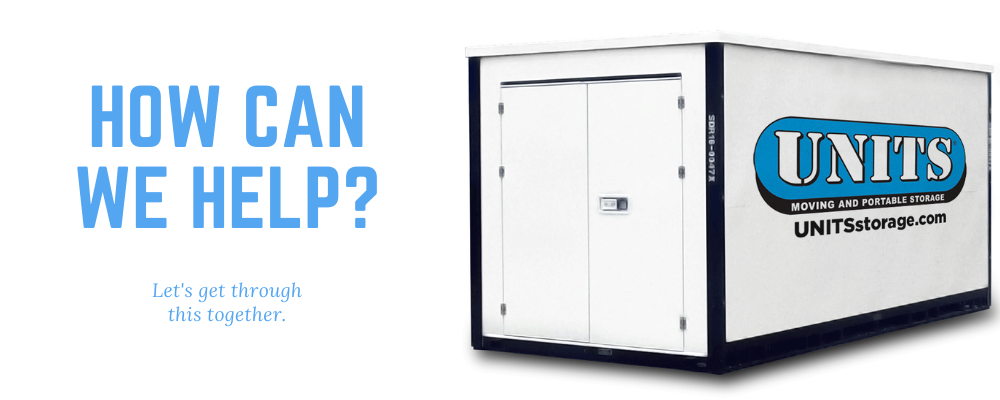 We're Open. We're Local. We're Here to Support You.
We know how difficult it can be to navigate these uncertain waters relating to COVID-19. Whether you've got a move already scheduled, want to get a jump start on some spring cleaning or a project, or you own a local business with storage needs, UNITS can help. As a locally owned and operated business, we're here to assist and support you and your family in this time of need.
How Can We Help You or Your Business?
During the COVID - 19 pandemic and as locally owned businesses ourselves, we're making sure that we're making the safety of our communities a priority, however we can help. From emergency storage for hospitals, small local businesses and restaurants or a safe way for you to move to your new home, UNITS Moving & Portable Storage is here for you or your business.
Services Available:
Despite the ongoing pandemic, our containers will be available for rent with contactless delivery and improved protocol for the increased safety of our customers, employees, and community.
Our containers are available for:
· Medical Supply Storage
· Hospital Overflow & Onsite Storage
· Restaurant and Takeout Supply Storage
· Excess Inventory Storage for Businesses
· Community Donations
· Storage for Spring Cleaning
· Construction Storage
· Safely Move and Securely Store Your Belongings
However we can help, a UNITS franchise near you may be available to support you. For inquiries and availability, locate a UNITS franchise here.
Let's Do Some Good Together
If you're an essential business and in need of help that UNITS Moving & Portable Storage can provide, please reach out to us and let's see how we can help each other through this difficult time.