We're Open. We're Local. We're Here to Help.
From offering emergency product and medical storage containers for hospitals, to homeowners using their time stuck at home to get a jump on spring cleaning, UNITS Moving and Portable Storage is actively creating accommodations to make our services safe, secure and available for our customers. We have implemented a contact free delivery process.
UNITS® COVID-19 message How UNITS® can help UNITS® Contactless Delivery Service
UNITS of Columbus Moving and Portable Storage Containers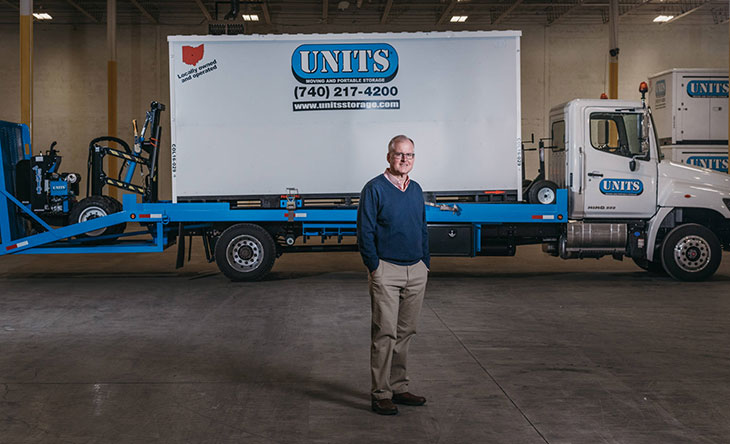 Container Delivery Re-Invented – UNITS® Robo-Unit*
The ROBO-UNIT is our proprietary delivery system which allows us to deliver containers to the tightest of spaces, while also providing level loading and unloading of your container. This system greatly reduces any shift in container contents and provides greater flexibility in container placement when space is an issue.
Our ROBO-UNIT can lift 7,000 pounds and move up to 10,000 pounds.
NO OTHER Moving and Portable Storage Company has the ROBO – not even Pack-Rat®.
Why Use UNITS
®

For Your Moving & Storage Needs?

We are local owners who know the moving and storage industry inside and out. We work hard to understand each customer's unique situation so that we can provide nothing less than exceptional service!
Good Old-Fashioned Customer Care
Superior Quality of our Portable Moving Storage Containers
We're price competitive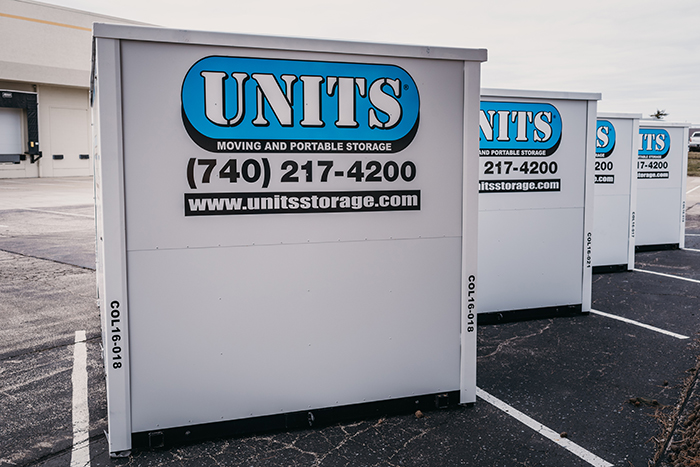 How It Works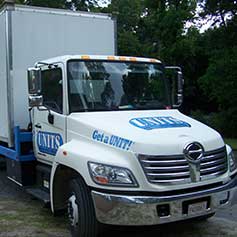 We Deliver It
Units will deliver a spacious, clean 12 or 16 foot UNIT container, ground-level to your requested location. All the driving is done for you.
You Pack It
Take your time and pack at your convenience. There are no time constraints. Packing materials are available for rent or purchase, and if you need help, we can also refer professional packers.
You Tell Us Where You Want It
You Store it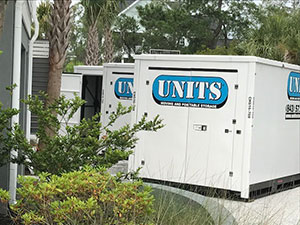 At your location.
We Store it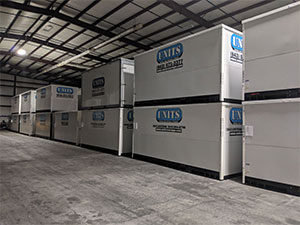 In our warehouse.
We Move It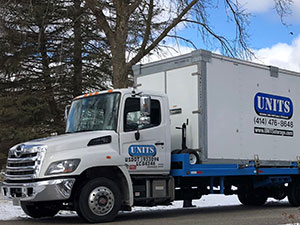 Just tell us where to take it.
Moving?
We can help simplify your move. Rather than move your things painfully in and out of trucks, making several trips in and out of storage facilities; simply move your things once into a Portable Moving and Storage UNIT. Then, UNITS® will deliver your belongings directly to your new location when you are ready to unload. Save half the work associated with traditional self-storage or half the cost of full-service movers – and we'll do all the driving! This is a much better solution than compared to either of our competitors.
Need Storage?
Whether you just need storage, or need storage along with your move, we make it easy and secure. You can store your UNIT at your location for easy access of your belongings, or in our climate-controlled storage facility, which is staffed full-time and equipped with state-of-the-art security systems. Need to access your container to pull something out – no problem! This is a less stressful solution than compared to either of our competitors.
Our Mobile Containers are Second to None
Unlike our competitors portable storage units, our mobile containers are built to last for years and withstand severe weather conditions. When searching for the perfect mobile container to store your items in you want to make sure it is secure, affordable and made out of quality material. UNITS® offers exactly what you're looking for and it is one of the very reasons why we are one of the best in the industry. No matter where you look: UHAUL®,PACKRAT® or Public Storage®, you know you are getting quality over quantity with UNITS® Moving and Portable Storage.
UNITS® vs. Other Moving & Storage Companies
Our customers tell us all the time that we have Fast and Friendly Customer Service as well as Competitive pricing. These qualities of our business are what ranks us higher when we are compared to our competition.
What really sets UNITS® ahead of the rest is our locally owned and operated facilities. When you call us, you are speaking with an employee who knows the area and is well-educated within the portable storage industry. These people you talk to at UNITS® are passionate about what they do and care about you getting the right equipment to make a seamless move or your storage process easier.
Our Customer Reviews
Still not sure? That's ok, at UNITS columbus we pride ourselves on providing great local service at a competitive price and our customer reviews are a demonstration of our commitment to ensuring your storage or moving needs are met in a professional and courteous manner.
What Our Customers Say About Us
The official news site for UNITS Moving and Portable Storage!
UNITS Moving and Portable Storage was recently recognized as one of the fastest growing companies in the United States in Inc's top 5000 list.
---
Load more articles