We're Open. We're Local. We're Here to Help.
From offering emergency product and medical storage containers for hospitals, to homeowners using their time stuck at home to get a jump on spring cleaning, UNITS Moving and Portable Storage is actively creating accommodations to make our services safe, secure and available for our customers. We have implemented a contact free delivery process.
UNITS® COVID-19 message How UNITS® can help UNITS® Contactless Delivery Service
Portable Storage UNITS® & Containers San Antonio, TX - UNITS Storage San Antonio, TX
Need Portable Storage in San Antonio? Call UNITS Today!
Store at your door with UNITS Moving and Portable Storage! UNITS is San Antonio's best choice for containerized storage. Our friendly team of trained professionals is ready for you to call day or night. We pride ourselves on our ability to deliver portable storage anywhere you need it, exactly when you need it.
Our container delivery system is the most technologically advanced in the world. This means UNITS can deliver containerized storage just about anywhere. Portable storage is easily the most flexible storage option for both residential and commercial uses. When time means money, UNITS is the most convenient option.
Unlike our competitors, we are proud to be locally owned and operated. For more than 20 years, our team has built a reputation for storage excellence. Chances are, we've delivered to your neighborhood before!
Residential Storage to Your Door
Containerized storage is one of the most convenient ways to give your home a little (or a lot of) extra space. Whether you're moving in or taking on a home improvement project, UNITS is there to advise you on the best portable storage option for your unique situation. We will help you determine the size of container you need, how long you might need it, and, most importantly, the best place to deliver it.
Our team of storage professionals are experts when it comes to determining the best location to place a container. We will go out of our way to make sure your portable storage experience is convenient without destroying your lawn or impeding access.
Moving Locally and Nationally
Portable storage containers are great for moving across town or across the country. If you need to pack up a houseful of items and move it somewhere safely, UNITS Moving and Portable Storage is a great option. Customer service, security, speed, and convenience are just a few things that separate us from our competition.
Take as long as you need to pack! Moving can be stressful and we don't want you to rush on our account. UNITS team of professionals are ready to advise you on the best way to store your valuables so that they will shift as little as possible in transit.
Once you're ready to move in, take all the time you need again. UNITS does not tie you in to long-term contracts, so you can keep the storage container you used to move on-site as long as you need to. Many families opt to take on home improvement projects when first moving in and portable storage can greatly reduce the time these projects take while keeping your home clutter free.
Commercial Storage Options
When you're talking about portable storage time means money. The commercial uses for portable storage are varied and their convenience is undeniable.
Restoration Professionals can't afford to wait for an inefficient portable storage company when their client's home has just been hit with fire or water damage. That's why our team picks up the phone day and night. We know disasters don't happen on a schedule and are ready to get a portable storage container wherever you need it ASAP.
Real Estate Agents and Home Stagers use portable storage to keep their client's furniture and personal decorations on-site when preparing to show a property. Save yourself trips to your office or storage facility by placing portable storage on-site. Your clients will have convenient access to their things and you will have the space to work your magic.
Construction Companies and General Contractors set up job sites using hundreds of thousands, sometimes millions of dollars of resources. Portable storage containers make taking care of these items a breeze on the jobsite and supervisors can rest assured that their tools and materials are locked away when the work day is over.
Our Customer Reviews
Still not sure? That's ok, at UNITS San Antonio we pride ourselves on providing great local service at a competitive price and our customer reviews are a demonstration of our commitment to ensuring your storage or moving needs are met in a professional and courteous manner.
What Our Customers Say About Us
Robert Herrera

We were very impressed. Besides the great deal they gave us, they delivered our pod on time of appointment and they were extremely professional! Highly recommend them for your moving needs.Read More
maggie flores

Definitely recommend. The owner and the employees are extremely nice and professional. The whole process was very easy and everything was explained to us before delivery. The storage containers are a great size all our items fit perfectly. The price was great as well. If you are looking for a temporary at home storage unit this is the place to go. Thank you for your great service.Read More
The official news site for UNITS Moving and Portable Storage!
UNITS Moving and Portable Storage was recently recognized as one of the fastest growing companies in the United States in Inc's top 5000 list.
---
Load more articles
< Back
Meet the Manager with Marc Gaudet of UNITS in San Antonio, TX
Marc Gaudet is a San Antonio self storage veteran. If you're moving to the area, he has a wealth of knowledge to share with you. We like to check in with Marc every so often to hear more about what's going on in the community. Whether you need portable storage or the 411 on what's going on in the Alamo City this weekend, Marc is your guy!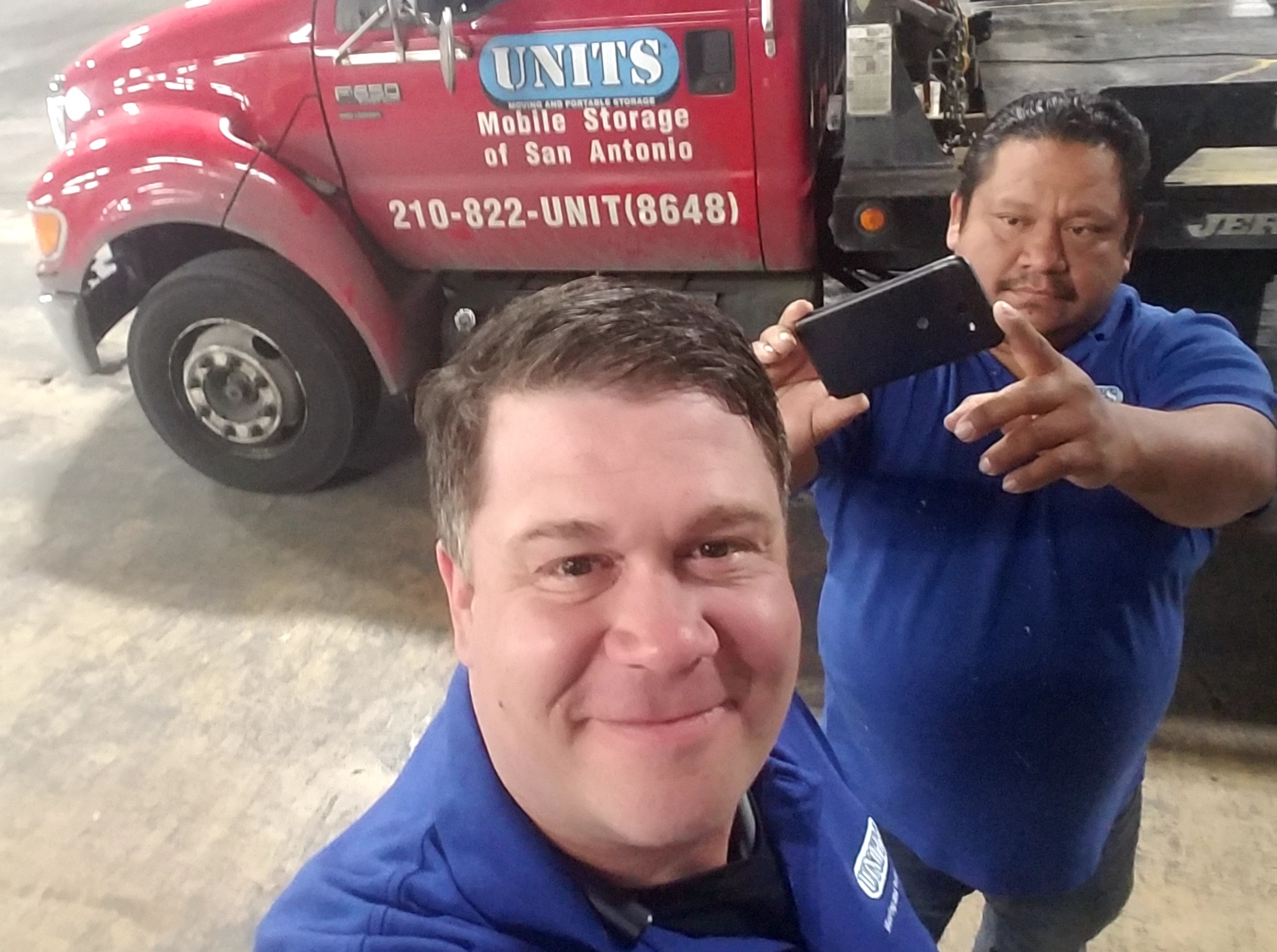 Colby: First off, are there any upcoming company events that you're excited about?
Marc: Not any particular event, but a focus for me right now is how busy the season is for moving. This is busy season for us right now. I had a call from a lady recently who is staging her home and I know there are studies that have shown that staging a home increases both the speed in which a home sells as well as the value of the home. I know this is a time of year where people try to declutter and move, so I'm focusing as much as I can on finding a niche for moves. I'm talking to a lot of contractors, painters, carpeting people, flooring guys. We have a few partners too, like ServPro of San Antonio. That's an exciting thing to work on and it's so important in the spring.
Colby: You kind of answered my next question already, but can you tell me a little more about some of the challenges in the industry this time of year? Is there anything particularly challenging in the spring that isn't a factor in the winter?
Marc: It's mostly based on experiences last year and this year so far. I'm just trying to stay sharp and help our customers solve various problems using portable storage.
Colby: Outside of UNITS, is there anything going on in the city that has people talking? I know you had the NCAA Tournament recently.
Marc: Yeah last weekend. Something we have that's more community-based is Fiesta. That's a huge thing here. It tends to sort of encompass a lot of the landmarks and exciting places like the River Walk and the Alamo. It's community-driven and it's really awesome. It's the 19th-29th of April and it gets a lot of buzz.
Colby: A ten-day-long event is a long time for anything. Must be a lot going on.
Marc: It's like 20 events inside of one large event. It's pretty cool.
Colby: Does it draw a lot of people from outside of San Antonio?
Marc: I think so, but it's not the same as an event like the basketball tournament. It's maybe 65% locals and the rest from out of town. It's such a big community event. So many different people in our community participate in it. My numbers could be wrong, but that's the sense I get.
Colby: Can you give me a highlight from the last month or so, or a story about the team coming together and meeting a challenge?
Marc: We always look at the positive here at this company. One thing from this year, Gilbert dealt with some personal circumstances at the end of year last year where he lost a family member. I've had some health issues too in that time. However, we've been working together to make sure everything operates efficiently and getting things done. Gilbert took it to the next level helping keep track of things with me, so we could be very accurate. When he couldn't be here, I covered for him and made some deliveries.
We've really worked together to get that done and I think that's really a positive thing, because we've continued to get positive Google reviews through it all. I don't want to brag, but it just shows how dedicated we are to the company and how hard we work to make sure it's successful. I think that's a highlight. We've dealt with adversity, but we haven't slowed down. We keep going as hard as we can!