UNITS Moving & Portable Storage in Northern Virginia and D.C.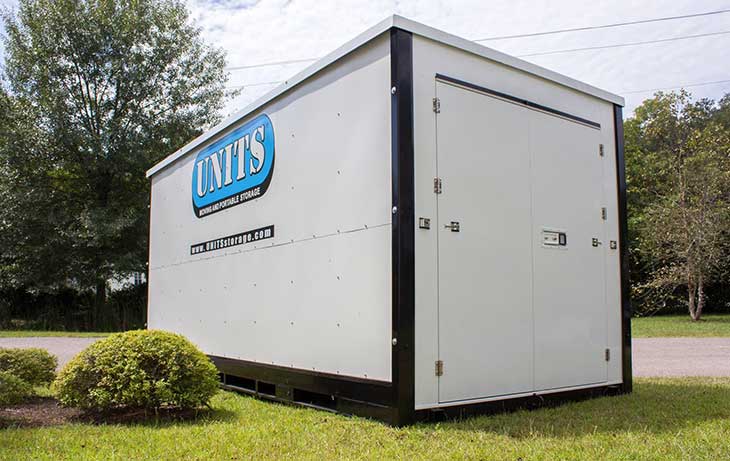 About UNITS of Northern Virginia
We are Northern Virginia and D.C.'s local portable storage provider. Our owner is part of the local business community and has lived and operated locally owned businesses for decades. He lives and understands the fast-paced environment, OUR goal is to make it easy, quick, economical and secure. That s what UNITS of Northern Virginia can provide!
We deliver storage units to your house or business; you load them at your own pace; and, when you are finished, we transport them to your new address or back to our secure storage facility. Or, if you prefer, you can keep your storage units on site and access them at any time. Our mobile storage containers are 100% all-steel and are designed to keep the weather out and your belongings secure. We also use unique robotic mini-forklift technology to place your container practically anywhere a car can go. And because we live in the same community as our customers, we are very easy to deal with and can give immediate turnarounds.
We serve all of Washington D.C. and Northern Virginia From Loudon County to Spotsylvania County to Include Fairfax, Arlington, Prince William, and Stafford County and the cities of Fredericksburg, Falls Church, Alexandria and Arlington. Our storage facility is easily accessible from I-66 or 234 right in Manassas.
Give us a try today if you need to store your belongings while you are remodeling, staging, or moving your home or office, for a portion of your household or business to expand your square footage, or just so you can use the garage again.
Mobile Storage Containers Delivered Right to Your Property!
UNITS innovative portable storage solution takes the pain out of the moving process, saving you time, money, and frustration. Long gone are the days of having to rely on a couple of guys and a truck to get the moving job done. UNITS helps you tackle Northern Virginia moving and storage on your terms, free from the stress and limitations of working with a national moving company or truck rental service.
Reserve your portable storage unit and UNITS will deliver the high-quality container to your property and leave it for as long as you need to pack your belongings. Whether you need a few hours or a few months, you can keep the storage unit on-site for as long as you wish. If you re not moving but just want to get some extra items out of your house indefinitely, we ll pick up your container and take it to our secure, climate-controlled storage facility until you need it again. Plus, we are locally owned and operated, and our customer service team is always ready to help.
To get a FREE quote for portable moving and storage in Northern Virginia and Washington D.C., fill out the form on this page!
Our Moving & Storage Solutions in Northern Virginia
Whether you re moving and need short-term portable storage or want to store your items off-site in our warehouse indefinitely, UNITS of Northern Virginia makes moving and storage as easy as 1, 2, 3!

On-Site Storage

Have extra stuff to store but no room in your home to put it? With a UNITS mobile storage container, we ll deliver a ready-to-pack container right to your home, and you can keep it as long as you like! Our 12-foot and 16-foot weatherproof containers can fit in even the tightest of spaces, allowing you to leave them on your property in a convenient spot for as long as you need!

Warehouse Storage

Don t have room on your property for one of our UNITS , or maybe you just don t need access to your belongings for the foreseeable future? We also offer off-site storage at our warehouse facility, and it s just as easy! The process is the same: We drop off a UNIT , you pack at your own pace (no rush!), and you call us when you re ready for the container to be picked up and taken to our secure, climate-controlled storage facility. It s that easy.

Local Moving

Most people dread the moving process until they move with UNITS ! Avoid hiring an expensive moving company or driving a bulky moving truck. With UNITS , you can have a 16-foot container on your property for as long as you need to pack it, and we ll transport it to your new home or business when moving day comes! Plus, you can take as much time as you need to unpack we will never rush you. Moving can be truly stress-free when you choose UNITS !
UNITS vs. Other Northern Virginia Moving & Storage Companies
Wondering how UNITS compares to national moving, portable storage, and long-term storage companies? Here are some things that set UNITS apart from national brands.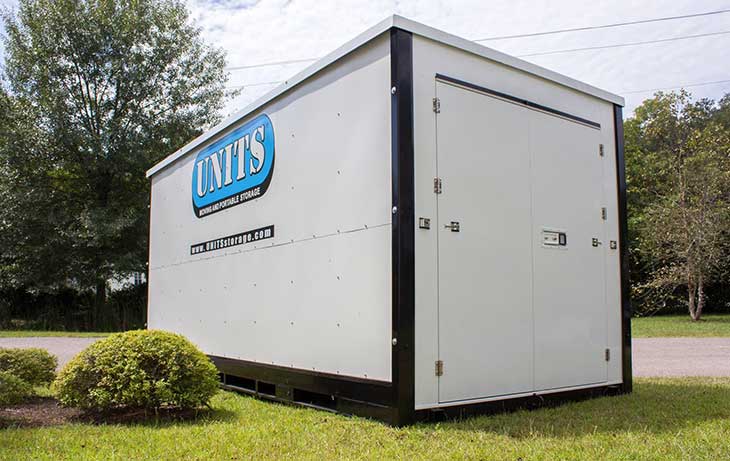 The Best Local Customer Service
Our locally owned and operated stores are run by owners who care and are dedicated to making their customers lives easier. Every time you call one of our locations, you will be speaking with friendly and knowledgeable staff who know your area and can help you get exactly what you need when you need it. Try to get that from a national brand s call center.
Competitive Pricing
UNITS pricing varies from market to market, but our owners strive to offer the most competitive pricing in their respective markets. Because of this, our average cost of moving and storage is typically far less than that of national brands. But we ll let you decide. Get a free quote from us today and then compare our quote apples to apples with any national brand you won't be disappointed! UNITS doesn't have any hidden fees PERIOD.
ETRACK Securing System
Unlike national portable storage companies, we acknowledge the fact that items can sometimes shift during moves due to differences in terrain. Using ETRACK , our proprietary strap and restraint system, your items will stay put!
All-Steel Construction
UNITS containers are built tough. Our containers feature all steel construction, tough steel frames, and steel doors, and they re the most weatherproof containers on the market. No tarp necessary. Some other companies containers are made of wood, adhesive, and staples.
More Interior Space & Capacity
UNITS containers are spacious and can hold up to 400% more by weight than some of our national competitors! That s more storage capacity for your money.
No Long-Term Contract Requirement
UNITS provides month-to-month agreements vs. multiple months or even year-to-year agreements that self-storage facilities try to lure you into! We like to keep things short and sweet with our contracts no gimmicks needed.
ROBO-UNIT Delivery System
The ROBO-UNIT is our proprietary delivery system which allows us to deliver containers to the tightest of spaces, while also providing level loading and unloading of your container. This system greatly reduces any shift in container contents and provides greater flexibility in container placement when space is an issue. Our ROBO-UNIT can lift 7,000 pounds and move up to 10,000 pounds.
No other moving or portable storage company has this technology!
Learn More About Our Moving & Storage Solutions in Northern Virginia
Discover convenient moving and storage in your area today! Let UNITS Moving and Portable Storage, Inc. help make your move a successful one. Fill out the UNITS quote form on this page and we ll send you a quote based on the details of your project!
Have questions? Give our local customer service team a call now at (703) 260-8943!