We're Open. We're Local. We're Here to Help.
From offering emergency product and medical storage containers for hospitals, to homeowners using their time stuck at home to get a jump on spring cleaning, UNITS Moving and Portable Storage is actively creating accommodations to make our services safe, secure and available for our customers. We have implemented a contact free delivery process.
UNITS® COVID-19 message How UNITS® can help UNITS® Contactless Delivery Service
Portable Storage News by UNITS Storage page 1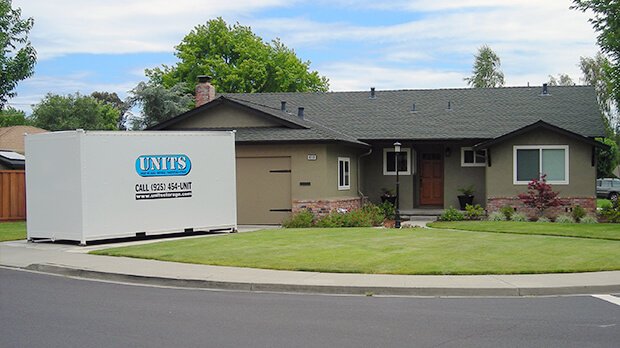 Why Use UNITS For Your Moving & Storage Needs?
We are local owners who have lived in the bay area for over 20 years. We work hard to understand each customer's unique situation so that we can provide nothing less than exceptional service!
Good Old-Fashioned Customer Care
Superior Quality of our Portable Moving Storage Containers
We're price competitive
How It Works
We Deliver It

Units will deliver a spacious, clean 12 or 16 foot UNIT container, ground-level to your requested location. All the driving is done for you.

You Pack It

Take your time and pack at your convenience. There are no time constraints. Packing materials are available for rent or purchase, and if you need help, we can also refer professional packers.

You Tell Us Where You Want It

You Store it

At your location.

We Store it

In our warehouse.

We Move It

Just tell us where to take it.
Moving?
We can help simplify your move. Rather than move your things painfully in and out of trucks, making several trips in and out of storage facilities; simply move your things once into a Portable Moving and Storage UNIT. Then, UNITS will deliver your belongings directly to your new location when you are ready to unload. Save half the work associated with traditional self-storage or half the cost of full-service movers – and we'll do all the driving!
Need Storage?
Whether you just need storage, or need storage along with your move, we make it easy and secure. You can store your UNIT at your location for easy access of your belongings, or in our climate-controlled storage facility, which is staffed full-time and equipped with state-of-the-art security systems. Need to access your container to pull something out – no problem!
Our Customer Testimonials
Still not sure? That's ok, at UNITS livermore we pride ourselves on providing great local service at a competitive price and our customer reviews are a demonstration of our commitment to ensuring your storage or moving needs are met in a professional and courteous manner.